ARB Slide Kitchen – Ute
CAMP COMPLETE
From the campsite to the worksite, the roadside to the trackside or riverside – no matter where you are, imagine the convenience of a fully contained kitchen out the back of your 4WD.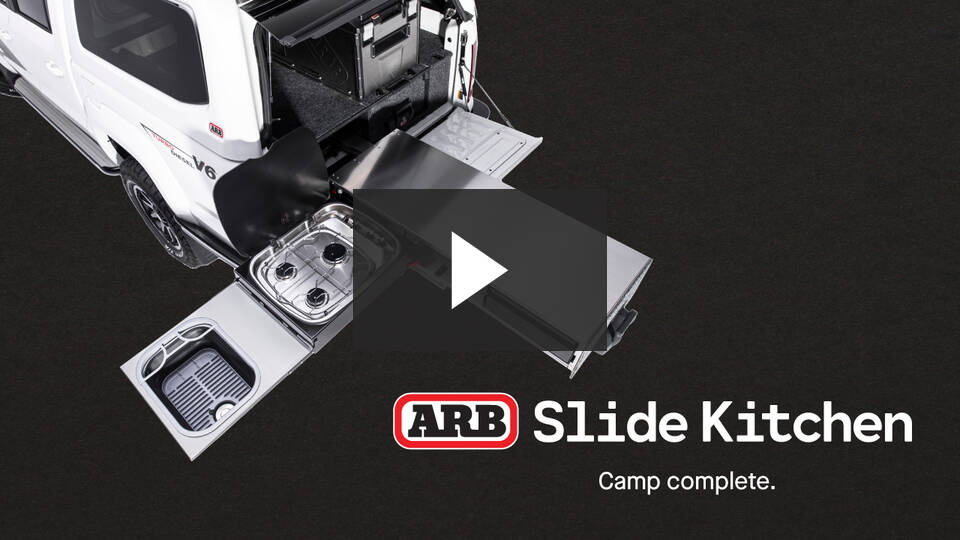 THE DESIGN
One of the most practical additions to any serious tourer, the ARB Slide Kitchen boasts some great design form which really enhances the user experience.
COMPLETE VEHICLE INTEGRATION 
Designed to integrate with ARB drawer installations, the Slide Kitchen features the same dimensions as ARB's full height (RD/RDRF), mid-height (RFH) and low height (RF) dual cab drawer systems, allowing it to be paired with any of ARB's roller, mid-height or full-height drawers.
EASY SETUP AND OPERATION
The Slide Kitchen can be set up or packed up in 15 seconds! Simply pull the slam latch drawer handle and roll out the stainless steel bench. Once fully extended, the bench locks into place and to complete the full setup, lift the red locking tab to release the swing-away stove and sink.
Configured for installation on the left (passenger) side of the vehicle, the Slide Kitchen is suitable for use while 'roadside' thanks to the cooktop's design set to swing away from the vehicle and road.
FULLY RETRACTABLE AND COMPLETELY FREESTANDING
The fully retractable over extension roller design provides complete clearance of the vehicle. Once the bench is fully extended and locked into place, it sits completely freestanding*, without need for a support leg.
*: The Slide Kitchen bench's 30kg weight limit (when fully extended) makes it a practical platform for loading and unloading the fridge!
EXPLORE THE FEATURES
Featuring a stainless steel benchtop, gas stove, utensils drawer and sink, the Slide Kitchen offers the convenience of a fully contained kitchen which slides out of the back of your 4WD in a matter of seconds.
STAINLESS STEEL BENCHTOP & UTENSILS DRAWER
The perfect space for meal preparation, the kitchen-grade stainless steel benchtop also features a handy spice rack for storing condiments and hooks to hang tea towels or utensils. Under the slide-out bench, the aluminium powder-coated utensils drawer is lightweight and offers plenty of space to store your 'must-have' cooking utensils and kitchen essentials.
FEATURES
Benchtop
Measures 1250mm (l) x 485mm (w)
304-grade stainless steel
Locks into place when fully extended
Hairline stainless pattern matches the stove finish
Engineered alloy extruded over extension runners, provides support freestanding
Main stainless surface can hold a maximum weight of 30kg spread evenly on top
All locking components highlighted in red to help guide setup
Utensils Drawer
Internal space measures 450mm (d) x 345mm (w) x 140mm (h)
Convenient space to store your gas hose and collapsible sink
Note: utensils rack is not included.
3 BURNER GAS STOVE
The contemporary design of the three-burner Thetford stove includes one large 2.5kW rapid burner and two smaller 1.75kW burners with flame-out technology, as well as a tempered glass lid doubling as a handy protective splashback for when the stove is in use.
FEATURES
Thetford Argent 3 burner MK3 stove
One large 2.5kW rapid burner and two smaller 1.75kW burners
Battery-powered (electric ignition) igniter offering a total of 6kW (20,472BTU)  cooking power
Toughened glass lid also doubles as a splashback while the stove is in use
Recessed stainless-steel dish for wind protection and easy clean-up
Automatic 'flame-out' safety function instantly cuts the gas and flame if the lid is closed or the flame is extinguished
Gas delivered via a quick-connect bayonet gas connector. A 1.2m quick-connect bayonet POL fitting with regulator included
20kg loading
Suitable gas: LPG and ULPG
12L COLLAPSIBLE SINK
A place to quickly clean your utensils, plates, bowls and pots, the drop-in 7L collapsible silicone sink also doubles as a dish drying rack and includes a removable plug and handy utensils holder.
FEATURES
12L collapsible silicone sink with plug.
Includes dish drying base (15kg sink loading, rated to 90°C)
Sink platform rated to hold total of 15kg (maximum)
Can be stored in the utensils drawer when collapsed
Includes utensils holder
REPLACEMENT DRAWER
For those who don't want to run a full-time kitchen in their vehicle, there is an optional replacement drawer which can be swapped out with the kitchen to allow for extra storage.
FEATURES
Optional extra
Provides a full extension drawer when in use
Tough boot lined and finished the same as the ARB Outback Solution Drawer System
78L capacity
100kg rating
Measures 1210mm (d) x 445mm (w) x 145mm (h)
SPECIFICATIONS
SLIDE KITCHEN SPECIFICATIONS
DIMENSIONS

Exterior: 1355mm (L) x 500mm (W) x 310mm (H)
Interior: 1250mm (L) x 485mm (W) x 190mm (H)
Benchtop: 1250mm (L) x 485mm (W)
Stainless Benchtop Total: 930mm (L) x 505mm (W)
Internal Small Drawer: 450mm (D) x 345mm (W) x 145mm (H)
Optional Replacement Drawer: 1210mm (W) x 445mm (D) x 145mm (H)

WEIGHT
STOVE SPECIFICATIONS
Stove-top: Thetford Argent 3 Burner MK3 stove. Made in England, AGA approved
Burners: 2x 1.75kW and 1x 2.5kW. 6kW total burners (20,472 BTU)
Quick connect: AGA approved and sourced POL hose 1.2m with approved regulator
Suitable gas: LPG and ULPG
Load rating: 20kg
COLLAPSIBLE SINK SPECIFICATIONS
12L capacity
Sink platform is preloaded to handle up to 15kg of weight
Pop up sink rated to up to 90°C
BENCHTOP SPECIFICATIONS
304 stainless steel kitchen-grade
Main stainless surface can hold a maximum weight of 30kg spread evenly on top